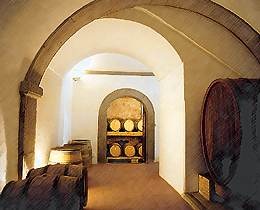 The Mottura estate is located in Tuglie, a small town in the southern part of the Salento Peninsula. The building is still the original one, a beautiful late 19th century farmhouse in Baroque style, whose cellars hide the secrets of an ancient family villa. This is where the wines slowly age in oak barrels and barriques to develop the aromas, colours and atmospheres of the land.
Tuglie is located inland on the southern Salento Peninsula. The town has very ancient origins. The area was first settled in Roman times: the "Grotte Passaturi" or "Old houses" were, according to some historians, the homes of the Tulli people.

The Salento Peninsula is the tip of the heel of Italy, a place where different peoples and cultures have succeeded one another over the centuries: Greeks, Romans, Byzantines and Arabs. A tongue of earth surrounded by the Mediterranean, lapped by the Ionian Sea on one side and the Adriatic on the other, it is the first place where the sun rises in Italy.

The Mottura Winery is located in a splendid late 19th century villa on a country estate, with balconies carved in stone in the Baroque style and cellars supported by barrel vaults, which have preserved the secrets of the family-run winery for four generations.

Mottura has always set itself ambitious quality goals, convinced of the expressive power of native local grape varieties such as Primitivo and Negroamaro and committed to continuing ancient wine-making traditions.