Fontemorsi Vineyard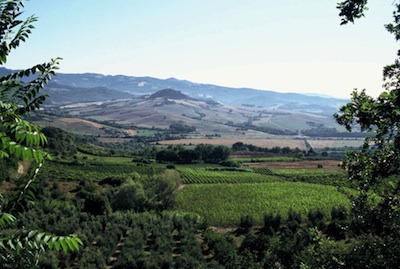 Our wines are produced solely from grapes produced in our vineyards and certified as organic by ICEA, the Ethical and Environmental Certification Institute.

Principally the Sangiovese grape, the vines are planted and bred using the Guyot technique. We utilize a low production of each vine to produce a significantly higher quality grape.

It is interesting to note the coincidence of the term 'Guyot' to mean a flat topped mountain below the sea. In fact the hills where the Fontemorsi winery stands today were once submerged below the Mediterranean and are today covered in fossilized sea shells, hence our choice of label.

All vineyard operations are conducted manually or with low impact machinery. We employ specialist workers from the locality who, with considerable know-how and expertise preserve the knowledge passed down through the generations.

Sangiovese, which is traditionally the local variety, is perfectly adapted to our environment and ensures high quality production. It is vinfied by itself or, depending on the label, with small quantities of Merlot or Cabernet Sauvignon.

Together with our ambition to produce high quality wines Fontemorsi has, as its mission, to build a model of viticulture with very low environmental impact. We follow the programs of the Experimental Station for Sustainable Viticulture directed by Dr. Ruggero Mazzilli in collaboration with a number of the most important Italian research institutes.

Current production is to approximately 60,000 bottles of red, white and rosé wines, both DOC and IGT as well as some 3,000 kg of organic olive oil.