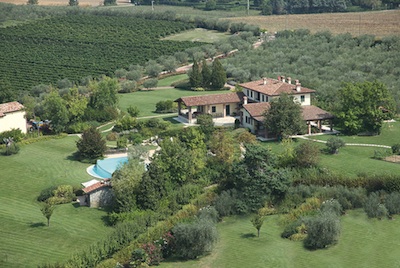 Casetto Farm was founded in 1999 on a holding next to the Lake of Garda in the middle area of Classic Bardolino. The particularly mild climate, due to the lake nearby, allows the vine both to prolong the plant's vegetative period and to profit by a perfect ripening, giving to these different vites fresh, young, fruity and harmonic notes.

The grapes appeal to a young market, which is also enterprising and searching for new flavors with evolving tastes and cuisine - which includes a taste for good wine.

A natural love for the best wine gave life to this new enterprise, with the birth of different wines appreciable for their body, freshness and harmony.
Located on the eastern shore of Lake Garda, archaeological excavations have proven the presence of humans in the Bardolino area since prehistoric times, in the area of Cisano. There are also traces of ancient Romans, though the modern settlement dates to the early Middle Ages.
Bardolino is an Italian red wine produced along the chain of morainic hills in the province of Verona to the east of Lake Garda. It takes its name from the town Bardolino on the shores of Lake Garda and was awarded Denominazione di origine controllata (DOC) status in 1968. The blend of grapes used to produce the wine includes Corvina, Rondinella and Molinara.
The three main grapes used to produce Bardolino are also used to produce Valpolicella but the two wines are quite different. This is partly because Bardolino generally contains less Corvina which adds body and structure and more Rondinella which has a relatively neutral flavor profile.