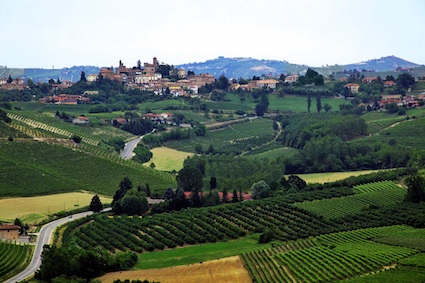 Piedmont, in Italian, means at the foot of the mountain. It was originally inhabited by Celtic tribes, which were later absorbed by the Romans. When Hannibal destroyed the Celtic capital, Taurasia, the Romans rebuilt it in the same location giving its streets the grid pattern that still characterize Turin today.

With 46 different DOC and four DOCG areas, Piedmont is the region that produces the largest number of best known, noble, and world-appreciated prize-winning wines, such as Barbera, Barolo, Barbaresco, Dolcetto, Nebbiolo, Grignolino, Malvasia and Asti Spumante among others.

Another distinguished characteristic of Piedmont is that most of its wines are produced on family estates made up of relatively small parcels of land.

That said though, among the whites the Asti Spumante achieved national fame thanks to Carlo Gancia, who learned the Champagne method in Rheims, France, and applied his newly acquired knowledge experimenting with Moscato grapes. This wine is perfect with the rich pastries and fine chocolate products.

Another Piedmont creation that achieved worldwide fame is the Vermouth, which was first created by Benedetto Carpano in his wine shop near the Turin Stock Exchange. The classic American martini cocktail takes its name from the most known Italian producer of dry vermouth, Martini & Rossi.