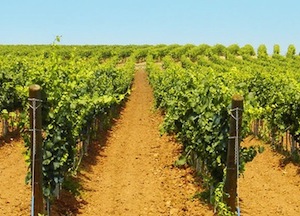 The southern portion of Apulia is a flat and fertile peninsula that forms the characteristic heel of the Italian "boot". In ancient times only the northern part of the region was called Apulia while the southern peninsula was known as Calabria, a name later used to designate the toe of the Italian "boot".

The region was settled by several Italic tribes and by Greek colonists before it was conquered by Rome in the 4th century B.C. As usual, the Romans organized the land in agricultural parcels, built roads and established new settlements.

Apulia produces more wine than any other Italian region usually making up around 17% of the national total. It also competes with Sicily for first place as grape producer. For a long time much of the wine made here was shipped north to Turin where it was used to make Vermouth, or to France where it was used to give structure to French wines when the local harvest was either poor or insufficient.

Puglia has long seen a prevalence of co-operative wine production. As both Italian and European community subsidies for co-op wineries have almost completely dried up, these large establishments and their grape-grower members are facing the choice of either changing their politics or risking annihilation. This is probably best for wine connoisseurs, as many co-ops have already scaled back production in order to focus on quality, branded, bottled wines.